The Food Station Menus
*Minimum order 40 people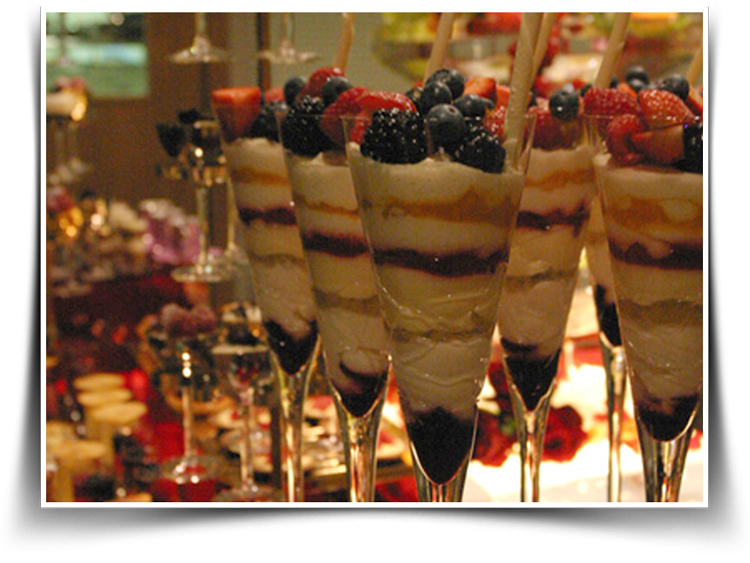 Food stations are interesting ways to involve your Clients and Friends in your next event. Our staff will provide all required items in these self-contained ""stations"". We require almost no power, you can put them anywhere, anytime and serve as many as you like. Chefs will explain dishes, carve the roast, toss the pasta and pour the coffee right before your very eyes. These decorated stations below are a good place to start. For other ideas, or to speak with us directly about your event, please email us at info@otm.ca or call us at 905-615-9957.
The On The Move "Mac and Cheese" Station
Note: Served in small Asian" style boxes with a plastic spoon.
Based on service for 35 guests
It probably wouldn't be on the menu for your mother-in-law's first dinner visit, and it isn't exactly gourmet fare, but macaroni and cheese is one of the most popular–if not the most popular–comfort foods. Nearly every soul food cookbook and many Southern cookbooks have recipes for this favorite; here is On The Move's Twist on an old fashioned recipe.
The Paella Station
In a large round steel pan and table top burners we will prepare a traditional Spanish Paella filled with: Chicken, bacon, minced garlic, onions, red peppers, green peppers, rice, chorizo sausage, saffron, chicken stock, shrimp, peas, and mussels.
The Sushi Station
Fresh tuna, crab, cucumber and California rolls served with wasabi, soy and pickled ginger served by authentic and extremely qualified Sushi-chefs. In keeping with tradition fully trained and qualified Japanese chefs will prepare and present their delights surrounded by the decor that represents their country and the food being served.
Where's the Beef?
With chefs preparing Canada's own triple A beef hot off the grill other chefs will shave the grilled delights and place it a top flat round "soft" tortillas Accompanied by:
Salsa, guacamole, sautéed red peppers and mushrooms, jalapeno peppers, onions, lettuce, sour cream, hot sauce and cheddar cheese, mozzarella cheese and parmesan cheese.
The Brazilian Grill
A variety of meat including beef, pork, chicken and lamb, grilled on large skewers and seasoned. Served with an assortment of sauces and; A Greek tomato cucumber salad with black olives, feta cheese and artichoke hearts; Spinach Caprese Salad with seasonal diced vegetables, boccancini cheese and a blue cheese and poppy seed dressing; Grilled Vegetable Salad with zucchini, roasted red peppers and eggplant, marinated in a mint and honey balsamic dressing.
Poutini's!
As sad as it is, when we think of Quebec we may think of fast food and specifically: poutine! We will take:
French Fries cooked on site and served with a little bit of salt. There will be warm (vegetable based) mushroom gravy, cheese curds, ketchup, chipotle aioli and more to load up your fries any way you want!
Chow-Down!
It only seems right that if we're going to represent the east coast we serve up some Seafood Chowder. Our twist is actually a Seafood Corn Chowder but who's checking? The point: served from big kettles we'll mix, cream, broth, seafood of all shapes, potatoes, corn and a boat load of other spices to give you a delicious east coast experience!
The Grilled Cheese Station
In the most traditional way we'll take "toast bread" butter it up and fry it on two tabletop fry pans and burners. Your guests will select from: Cheddar, Swiss and Mozzarella cheeses. They can even add diced tomatoes, onions and black olives. Of course, there will be ketchup, and not the cheap stuff either.
"The Fried Ice Cream"
Served in small ramekin and small wooden spoon
This Mexican treat is rolled in advance in a tortilla and corn puree, delivered and fried on site in table top deep fryers in front of guests. It is topped with a mango sauce
Note: Dozens of other options are available including fine dining and dessert stations