The Appetizer & Standing Room Only Menus
We are excited to showcase our most popular selection of appetizers, but we have dozens more to tell you about so contact us and let's chat about what you're envisioning for your event.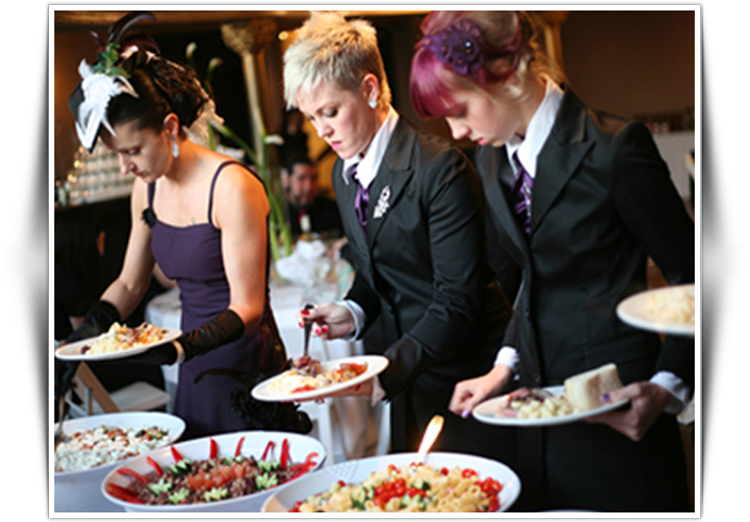 "Don, Just wanted to send you a quick note to tell you that the Holiday Appetizer and Standing Room luncheon was a great hit! The food was tasty and very ample – there were so many leftovers, we didn't know what to do with them all! Please also extend my thanks to Steve and Dan for a fantastic job. They were courteous, on top of everything and cleaning so quickly that the plates did not have time to get cold. Even our President was impressed! Thank you again for everything and I am sure this is just the beginning of many events to come."
The Vegetarian Options
The Artichoke Risotto Cakes
Fresh diced artichokes, Manchego cheese, cornmeal, garlic and onions blended with traditional risotto and formed into tiny, delicious "cakes."
The Wasabi Rice Sticks
Wasabi risotto prepared with Chinese red wine and a selection of cheeses, breaded and fried in sesame oil
The Parmesan Shortbread
A small bite of Parmesan cheese shortbread with roasted garlic and oven-dried tomatoes
The Goat Cheese
Goat cheese balls flavoured with paprika and chives and coated in sesame and poppy seeds
The Mini Pizzette
Mini Pizza with caramelized onions and Roquefort cheese
The Caprese
Cherry tomatoes and bocconcini cheese balls on small skewers
The Cornmeal
Mini Cornmeal Muffin with whipped Mascarpone and maple glazed walnuts
The Mushroom Bruschetta
Brunoise of sautéed mushrooms and herbs placed atop herbed croustade
The Onion Bhaji
Sweet onions prepared with Indian flavours… Far East onion rings!
The Seafood Options
The Spicy Crab Cakes
Crab cakes with a spicy pepper medley, corn, black pepper aioli and chives
The Red Snapper
Filet strips of red snapper prepared in a red Thai marinade topped with cilantro and set a top small pumpernickel rounds
The Smoked Salmon Spiral
Fresh salmon, spun and filled with horseradish cream, and dill on potato rosti
The Sushi Roll
Fresh tuna, crab, cucumber and California rolls served with wasabi, soy and pickled ginger
The Tuna Carpaccio
Seared Tuna Carpaccio on Crispy Flan With Pickled Ginger
The Miso Shrimp Skewer
Chilled jumbo tiger shrimp prepared in a Miso marinade served "skewered with fresh arugula and a zesty citrus bites
The Oriental Salmon Tartare
Finely diced salmon with chopped lime zest and fresh ginger
Open Sesame
Seared scallop with braised leeks and mango chutney on sesame toast.
The Carnivorous Options
In-Gras-sa
Toasted, seasoned crostini breads topped with pan fried fois gras, a blueberry reduction and pearls of goat cheese.
The New New York
Mini Yorkshire Pudding With Parsnips Mash, Smoked Beef & Caramelized Onion
The Mini Calzone
Small Italian calzone or "inside out pizza" prepared with a basil red sauce, and fresh Italian sausage
The Beef Carpaccio
Thin sliced, marinated beef tenderloin served on toasted breads garnished with Parmesan cheese and Truffle oil
The Roasted Duck
Asian roasted duck & vegetables in a rice paper roll
The Chicken Caesar
Smoked Chicken Caesar salad in miniature Frico basket
The Roast Beef Rolls
Roast Beef Rolls with horseradish cream cheese and asparagus
The Spicy Bolly-Pops
Mini Chicken drummettes prepared with Serrano peppers and papaya, roasted tandoori style and served with a mint dipping sauce
The Brie Crostini
Whipped Brie Crostino with roasted grapes and crispy bacon
The Satay
Including grilled chicken, pork or beef served with dipping sauces
The Standing Room Only Menus
The Red Wine Tapas
Taking large glasses of vino, we'll place a small plate atop (think lid) of each half filled glass and top it with: Olive oil Crostini breads; Prosciutto di parma, shaved extra thin and cut in small strips; Asiago cheese cut in mini triangles; Black olives
The Salsa Ceviche
Mexican "salsa" prepared with chopped scallops and traditional salsa ingredients layered in a Martini Glass with fresh guacamole and topped with Sour cream and chives
The Calamari and Onion Rings
Served on tall wooden "self standing" skewers (think wooden paper towel holders but not) we are pleased to serve: Homemade rings of calamari and fresh onions served with assorted dipping sauces
The Baby Lamb Chops N' Frites
Individual "French" style chops, grilled and served with a mustard-mint dipping sauce and sweet potatoes fries, served by our staff in small aluminium "garden pails" (4" in diameter.
The Chicken Nagamaki
Chicken breast "rolls" with asparagus and red pepper, crusted and fried with sesame seeds sitting on a bed of white rice topped with a red pepper coulis and Thai dipping sauce.
The Wisotto
Wasabi risotto prepared with Chinese red wine and a selection of cheeses and shitake mushrooms